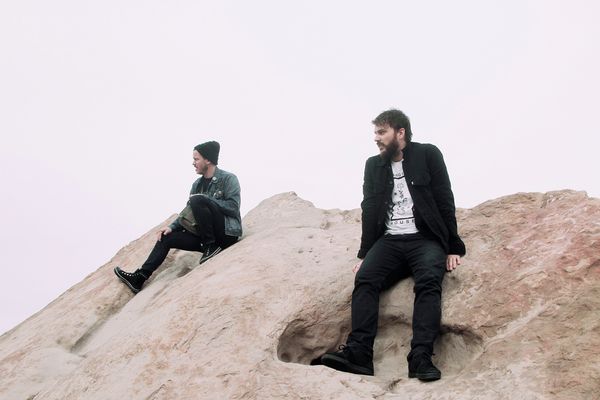 Civil Disobedience For Losers Bio 2012
INDIAN HANDCRAFTS
Civil Disobedience For Losers
Everything about Canadian power-duo Indian Handcrafts seems to defy possibilities: a two piece that's louder than a hundred bands, kicking out one of the year's most riff-rollicking albums that was recorded while the guitarist had a broken hand! They're two friendly, soft-spoken Canadian guys sounding like the Funkadelic Mothership crash landing on top of the Planet Caravan in Interstellar Overdrive.
Indian Handcrafts' well honed, massive melodic heft seems to belie the simplicity of instrumentation between drummer/vocalist Brandyn James Aikins and guitarist/vocalist Daniel Brandon Allen. While their songs feature hints of heavy, technically skilled bands like Big Business, Hella and Tweakbird, there are also strong melodies and a vocal intensity inviting comparisons to artists ranging from Death From Above 1979 to Jack White. Top that all off with a rhythmic groove reminiscent of a hybrid of ZZ Top's Tres Hombres and Funkadelic's Standing On The Verge of Getting It On and it's clear that Indian Handcrafts are much, much more than the sum of their parts. 
Bursting out of Barrie, Ontario this pair of charming gentlemen immediately impacted the world with a self-released 8-song debut album in 2011. Cathy Pellow of Sargent House quickly took notice and signed the band on to management and the label. Shortly thereafter, Civil Disobedience For Losers was recorded in Los Angeles in March 2012 with engineer Toshi Kasai (Melvins, Big Business, Red Sparowes) and featuring special guest appearances by Melvins drummers Dale Crover and Coady Willis. Even with such super friends assisting the proceedings, Indian Handcrafts prove their own exceptional strengths throughout the album. 
"The doctor said if you go and record, that's your problem if it gets worse," Allen explains of recording with a broken hand. "It was a little painful some days, but because of being there in the surroundings it was easy to get around that. It healed fine." Overall, the duo says the recording came together very quickly under Kasai's guidance, but it's the bond between Aikins and Allen that gives Indian Handcrafts its lean, ferocious personality. "We first started this band when playing in another band that was pissing us off," Aikins says. "We were the two who always got along. I can't ever see us having anyone else in the band. Unless Toshi played tambourine."
Album opener "Bruce Lee" kicks off (as it were) with a storming drop tuned guitar riff for which Soundgarden would've killed decades ago and surreptitiously eases into a breakdown worthy of Funkadelic's Cosmic Slop before leaping headlong into a blazing double-time group chant crescendo led by triple marching snare drums courtesy of Aikins and special guests Crover and Willis of the Melvins. "Red Action" pulls Grand Funk boogie into a violent confrontation with HEALTH level effect pummeling as Aikins and Allen trade vocal-chord shredding harmonized screams. "Terminal Horse" blazes along on a harmonized riff while the dual vocalists spit out lyrics as if their lives depended on it. Elsewhere, Indian Handcrafts go in for the kill on the explosive "Centauri Teenage Riot" pitting the fury of teen angst against a wall of guitars and the dual drum attack of Aikins and Crover. On "The Jerk" chiming, delay-soaked post-punk guitar counters a propulsive 60s R&B beat as the vocalists spin a tale of seemingly depraved sex: "said you wanted a lovah, so we went down south and tried to find you a lovah/ You wanted a lovah/ You got with the other." Throughout, infectious guitar riffs, intense vocal harmonies and pounding drums spin wildly out of control as they churn out headbanging rock so catchy it seems like it's been a forgotten art for countless decades. 
Civil Disobedience For Losers
 was released on LP, CD and download on October 30th, 2012 via Sargent House.